A bas bruit (Insidiously)
66' - 2014 - CLC Productions
Synopsis
Insidiously. This is the way certain epidemics, ideas challenging the established order and nascent feelings are transmitted. Insidiously, like the story of our lives, in which the personal joins the great movements of history. Poised between dance and circus, the show is a kaleidoscopic collection of portraits capturing fractions of an era.
A human-sized hamster wheel is recycled in order to do the rounds of our inner world: a command to race, but also an anti-gravitational experiment. A treadmill is recycled: a machine for moving forward while staying in the same place and creating time portals. A handkerchief is recycled: a sheet of metal, a parachute, a brown paper flag, screens of our crazy thoughts.
Traces, voices and footprints of those who have participated in the experiment are also recycled, thus revealing fragments of a moving story.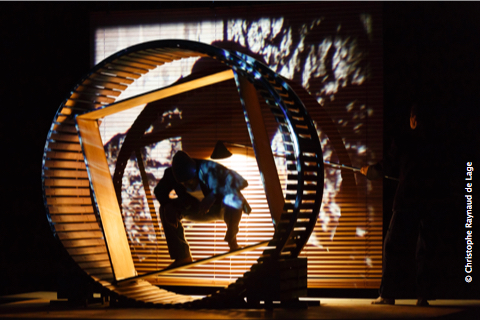 Technical sheet
Infos
Pictures
Videos
version
Music & concert
support
HD
producer
CLC Productions
director
Laurent Préyale