A BORDER IN THE JUNGLE
52' - 2015 - PUZZLE MEDIA
Synopsis
The border between French Guiana and Brazil has always been vague and poorly defined. The current maps are old and unreliable, because the region known as the "Tumuk Humuk Mountains", at the tri-point between Surinam, Brazil and French Guiana, is difficult to access.
A demarcation line was officially established in the 1950s during missions coordinated by the National Geographic Institute (IGN).
In 2015, François-Michel Letourneau, Director of Research at the National Centre for Scientific Research (CNRS), led an expedition equipped with modern instrumentation to travel the entire length of the border and create a new and better map.
The documentary tells the story of this extraordinary and physically demanding scientific expedition.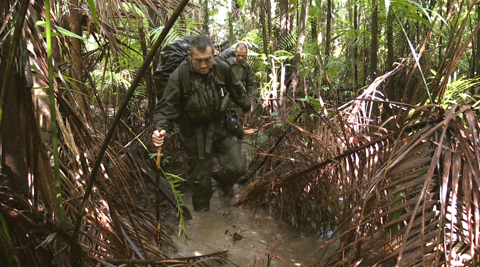 Technical sheet
Infos
Pictures
Videos
version
French & International
support
HD
producer
PUZZLE MEDIA
director
Frédéric Cristea & Raphaël Pellegrino