A singer must die
86' - 2015 - Heliox Films
Synopsis
Originally formed by the duo Philippe Le Guern and Manuel Ferrer, A Singer Must Die - which takes its name from a Leonard Cohen's song– is quickly known in United Kingdom.They composed a first album in 2007 Today , it's a wonderfull day, published on the Scottish indie label Grand Harmonium. Hailed by critics and noticed for his qualities of storytelling, the duo export to England for some BBC radio sessions and a series of concerts.
In 2011, Manuel Ferrer meets Regis Martel on drums, guitarist Romy Marx and multi instrumentalist Olivier Bucquet who grabs with virtuosity bass, saxophone or keyboard. The group finds its balance with composer-arranger Manuel Bichon and vibraphonist Emilie Buttazzoni who bring a touch of color and emotion.
Imbued with orchestral romanticism, on the edge of theatricality, the sextet stands out with a bold flamboyant pop. Simple pop songs enhanced with great orchestrations and pocket symphonies
The soundmix of their new album "Venus Parade & More Songs Beyond Love" was partly entrusted to Ian Caple, who worked on the albums of Tindersticks and with artists such as The Divine Comedy, Sweden, Yann Tiersen or Alain bashung.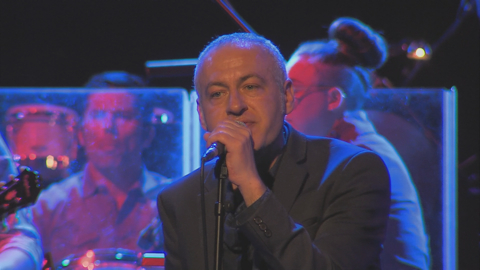 Technical sheet
Infos
Pictures
Videos
version
French & International
support
HD
producer
Heliox Films
director
Jérôme Cassou