A SMALL HISTORY OF GREAT MUSIC (or music as explained to my daughter)
58' - 2019 - Tangaro / CLC Productions – Tandem Concerts – Association Musicale Télégrenoble – Via Vosges – Via Mirabelle – LCN La Chaine Normande
Synopsis
A show that tells the story of the evolution of Western music, from prehistory to today, including Machaut, Bach, Mozart, Beethoven, Ravel and Boulez, in a simple and lively way, making it easily accessible to both adults and children.
Alma is a mischievous girl who doesn't want to play her violin. What's the point of it? An improvised conversation thus begins with her parents, which leads them on a fabulous journey through time: from the first sounds made by cavemen to the music played at the Olympic Games in the days of the Ancient Greeks, from a six-year-old prodigy called Mozart travelling across Europe to computer-aided music, this captivating story will change her view of the world forever and make her aware that magic can spring from her violin at any moment.
(Re)discovering the best-known works by Bach, Mozart, Beethoven, Schubert, Chopin, Debussy or grooving to jazz, we savour the words of Emmanuelle Bertrand and Pascal Amoyel who, in telling this story, reveal the values, emotions and pleasures of music.
Pascal Amoyel is a world-famous, award-winning composer and musician.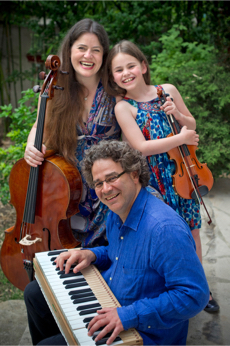 Technical sheet
Infos
Pictures
Videos
version
French
support
HD
producer
Tangaro / CLC Productions – Tandem Concerts – Association Musicale Télégrenoble – Via Vosges – Via Mirabelle – LCN La Chaine Normande
director
Laurent Préyale