ABU SIMBEL, GIANTS OF THE NILE
4K

52' - 2021 - PEIGNOIR PROD
Synopsis
Discover the history of a legendary temple, from its construction to today!
In 1250 BC, over 3000 years ago, Ramses II, a warrior and builder, reigned supreme over Egypt. He launched a gigantic construction site during his fifth year in reign. At the gates of Nubia, he erected two colossal temples dedicated to the Pharaoh and to his wife Nefertari.
The workers hammered 55 meters into the heart of a hill overlooking the Nile. They excavated thousands of cubic meters of stones in order to create gigantic chambers with pillars no less than 10 meters high. The statues of the Pharaoh seated on a throne are 20 meters high. The facade of this temple defied all of the norms at the time.
Now the eighth wonder of the world, there is nothing like the Abu Simbel temples!
How was such a feat possible? How did the Egyptians organize and manage such a project 1500 kilometers from the Nile Delta? Architects, archeologists, and modern engineers found the answers to these questions in another colossal challenge: the stone-by-stone dismantling of the structure to save it from the rising water levels of the Nile following the construction of the Aswan dam. After 3000 years, they will unlock the mysteries of the eighth wonder of the world!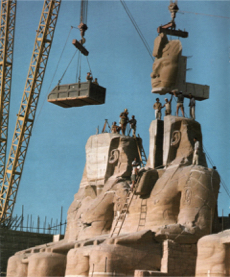 Technical sheet
Infos
Pictures
Videos
version
French, English, International
support
4K
producer
PEIGNOIR PROD
director
Serge TIGNÈRES