AINSI SOIENT-ELLES
40' - 2019 - CLC Productions (Tangaro) / Orchestre Victor Hugo-Franche Comté / TV Grenoble / Télénantes / La Chaine Normande
Synopsis
Performed by the Victor Hugo Franche-Comté Orchestra conducted by Debora Waldman.
Written between 1914 and 1917, the "Grande Guerre" symphony, composed by Charlotte Sohy, has a rare poetry, with subtle timbres worthy of the French school (D'Indy, Debussy) and daring harmonic sequences creating mysterious atmospheres.
Born in Brazil, Debora Waldman studied music in Israel and Buenos Aires and then in Paris with Janos Fürst, F.X. Roth and M. Levinas at the Conservatoire National Supérieur de Musique (CNSM). Amongst the operas she has conducted are Madame Butterfly (2011), Aïda (2012), The Magic Flute (2013) and Don Giovanni (2014).
Recorded at the Scène Nationale de Besançon on 06/06/2019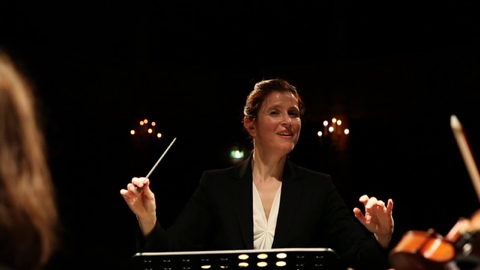 Technical sheet
Infos
Pictures
Videos
version
Music & Concert
support
HD
producer
CLC Productions (Tangaro) / Orchestre Victor Hugo-Franche Comté / TV Grenoble / Télénantes / La Chaine Normande
director
Jérémy Rozen