AMIN AL AIEDY
50' - 2022 - CLC /TANGARO – Musiques en Balade - Jazz au Sommet - TL7 Téévisoon Loire 7 – TéléGrenoble – LCN La Chaîne Normande
Synopsis
At the crossroads of the sounds of the East and West, like a heritage, Amin Al Aiedy mixes the textures, rhythms and accents of Arabic art music with those of modern jazz to lead us into unknown territory.
The band formed in 2020 and began touring the following year, notably at Jazz au Sommet, where they opened for Pierre Bertrand.
A fusion is created between the modalities specific to each culture: the Mesopotamian instruments mingle with the piano and the drums, weaving arabesques of rich and varied colours.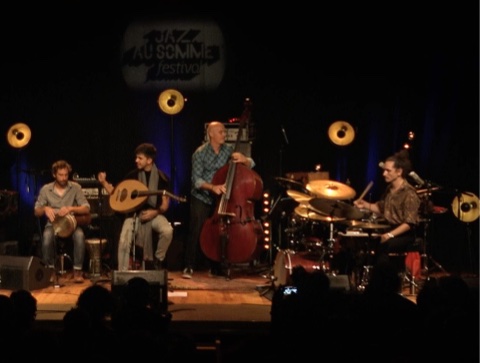 Technical sheet
Infos
Pictures
Videos
version
French, M&E
support
HD
producer
CLC /TANGARO – Musiques en Balade - Jazz au Sommet - TL7 Téévisoon Loire 7 – TéléGrenoble – LCN La Chaîne Normande
director
Laurent Préyale