AMOR AZUL – Gilberto Gil & Aldo Brizzi
4K

173' - 2023 - Les films de la Butte
Synopsis
An opera created and written by Gilberto Gil and Aldo Brizzi, adapted from the 13th century Indian poem the Gita Govinda.
Show recorded on December the 2nd, 2022 in the Radio France Auditorium, with the Radio France Choir and Philharmonic Orchestra.
Universal musician and former Brazilian Minister of Culture, Gilberto Gil performs the world premiere of his opera Amor Azul ("Blue Love"), co-written with Aldo Brizzi, with whom he collaborated in 2005 on his album "Brizzi do Brazil".
The Radio France choir and orchestra join in the festivities to celebrate the dual heritage of European art music and Brazilian harmony.
This "opera-song" is a moment of jubilation, magic, celebration and irresistible joie de vivre.
Direction musicale / conductor : ALDO BRIZZI
ORCHESTRE PHILHARMONIQUE DE RADIO FRANCE
CHŒUR DE RADIO France directed by LUCIE BARLUET DE BEAUCHESNE
GILBERTO GIL Jayadeva / Vishnu
JOSEHR SANTOS Krishna
LUCIANA PANSA Radha
GRAÇA REIS Sakhi
IRMA FERREIRA Gopi 1
YETE QUEIROZ Gopi 2
CARLOS EDUARDO SANTOS esprit de la forêt
RAGHUNATH MANET avatar de Krishna (danse et veena)
SWATI VAN RIJSWIJK avatar de Radha
BEM GIL guitare populaire brésilienne
IURI PASSOS, LUAN BADARÓ, ALIN GONÇALVES percussionnistes afro-brésiliens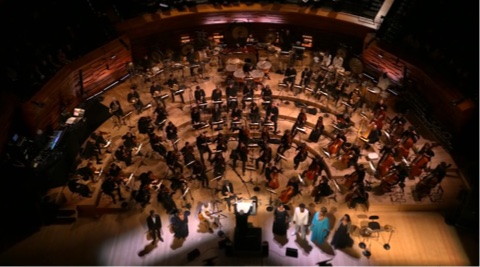 Technical sheet
Infos
Pictures
Videos
version
Music / concert
support
HD + UHD 4K
producer
Les films de la Butte
director
Sebastiano d'Ayala Valva