Anton Webern : Langsamer Satz+ six bagatelles
16' - 2015 - Heliox Films
Synopsis
A rich and robust interpretation of Langsamer Satz by Anton Webern, composer of the Second Viennese School. The melodic impetus remind the end of the romantic period, particularly well developed by this sensitive and touching ensemble.
A real modernity magnificently revealed by the quartet Les Dissonances.
The Six Bagatelles Opus 9 are composed in 1913 and marked a major break with tradition. The musicians of the quartet Dissonances have perfectly adapted their playing to the very modern sound essential to the performance of this work.
We would appreciate all the qualities of the musicians in their various playings and techniques essential to these filled with difficulties short Six Bagatelles.
DAVID GRIMAL & LES DISSONANCES
The Dissonances, homage to the famous quartet of Mozart, is a collective of artists created by violinist David Grimal. The musical ensemble without conductor, has an absolute liberty of programming choices. This independence offers musicians the opportunity to meet a new audience sometimes intimidated by the so-called classical music and to bring the public a new vision of the major repertoire.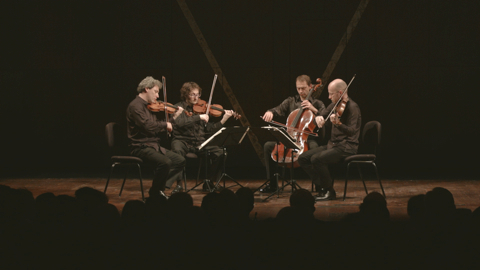 Technical sheet
Infos
Pictures
Videos
version
French & International
support
HD
producer
Heliox Films
director
Mirane Gomis