ANTONIO SEGUI, el gran teatro del mundo
52' - 2017 - THE Prod
Synopsis
Antonio Segui is an Argentine painter who has lived in Paris since the 60s. He appears alone on the screen and is the only person to speak. In his studio, in which the filming took place over 24 days, spread over 2-and-a-half years, there is only the painter and the filmmaker.
François Catonné films each stroke of charcoal, each dab of colour, in an intimacy that only the cinema can grasp, as if suddenly the mystery of painting is revealed to us by the camera.
In "The Mystery of Picasso" Clouzot says, "To know what's going through the mind of an artist, just observe what he is doing with his hands".
Antonio Segui is a globally renowned painter. He exhibits all over the world and has paintings in major art institutions.
This documentary is part of a collection of portraits of painters devised and directed by François Catonné (DOP on more than sixty films: Régis Wargnier, Bertrand Blier, Robert Enrico, Gerard Mordillat...). The idea is to show the painter at work: all the action takes place in the artist's studio, in which they are the only people to be seen and heard.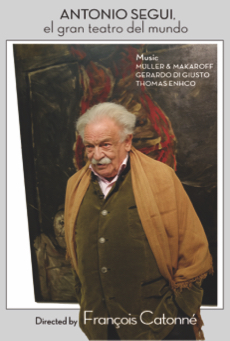 Technical sheet
Infos
Pictures
Videos
version
French, english, M&E
support
HD
producer
THE Prod
director
François Catonné