Auctioneers!
52' + 4x26' - 2012 - CHENGYU PROD
Synopsis
Two million objects, from the most ordinary to the most precious, change hands every year in the 400 auction rooms in France.
This is the story of life in the provincial auction house in Vendôme, Loir-et-Cher, owned by Philippe Rouillac and his son Aymeric.
Every year, they hold an auction at the Château de Cheverny, which equals any at the Hôtel Drouot in Paris or Christie's in London.
A few months before the annual sale, Philippe and Aymeric Rouillac set off on a treasure hunt, tracking down the prestigious objects that will comprise the exceptional collection featured in the Cheverny sales catalogue.
For a piece to be deemed worthy of inclusion in the sale, the Rouillac's have to establish its provenance, checking the maker's name and verifying its previous owners in order to establish its precise value.
Once the sales catalogue has been completed, the auctioneers enter a new phase of their lives, working with their team to promote the event they've laboured so hard to put together, attracting potential buyers and preparing for the viewing days.
On the day of the auction, Cheverny becomes a temporary museum, a living theatre, bringing together aesthetes and collectors, museum curators, anonymous millionaires, modest bargain hunters and astonished passers-by, all united by the same passion.
The Rouillac's put their business on the line with this discreet and diverse "clean out". To the rap of a hammer, the contents of the little museum are dispersed amongst collectors from all around the world.
Available in 4 x 26' :
• Autionneers : TRESURE HUNTERS
• Autionneers: THE SHERLOCK HOLMES
• Autionneers: THE KNOW-HOW TO SALE
• Autionneers: THE GRAND FINALE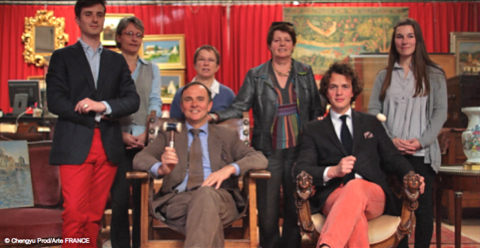 Technical sheet
Infos
Pictures
Videos
version
French and International
support
HD
producer
CHENGYU PROD
director
Matthieu JAUBERT & Agnieszka ZIAREK