Augusto
62' - 2018 - La Belle Télé
Synopsis
A performer who pushes physical boundaries as much as he explores virtual spaces, in this show the Italian Alessandro Sciarroni examines the figure of the Auguste clown, and more broadly, the mechanisms of laughter.
AUGUSTO is an in-depth exploration of the human voice and laughter. The piece establishes a very strong physical connection between performers and spectators. Together, they tend towards a euphoric, almost trance-like state, during an obsessive quest punctuated by multiple bursts of voices and laughter.
Alessandro Sciarroni is a stage artist with a solid background in visual arts and performance and his creations are presented at dance and theatre festivals, museums and art galleries, as well as other, more unconventional settings.
He applies a theatrical framework to a Duchamp conceptual matrix, incorporating techniques specific to other disciplines, such as circus or sport. Sciarroni's performances seek to reveal obsessions, fears and fragilities through the effect of repetition pushed to the limit of the performers' physical endurance, creating an empathic relationship between spectators and performers.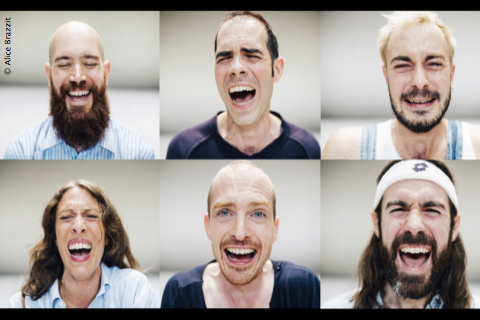 Technical sheet
Infos
Pictures
Videos
version
Music & effect
support
HD
producer
La Belle Télé
director
Louise Narboni