Battered children, the law should have saved them
90' - 2011 - Chasseur d'Etoiles
Synopsis
Eight-year-old Marina died last year, battered to death by her father and mother.
Before her, seven-year-old Dylan and two-year old Enzo silently endured years of unimaginable abuse at the hands of their parents and families.
What's going on in France? Why are we unable to protect our children? Why don't we take remove them from their persecutors? What are the State child protection services doing?
How can we accept the negligence sometimes displayed by the social services and the law?
The aim of this investigation is to answer these questions and to call all those responsible for these tragedies to account.
A film that doesn't pull its punches.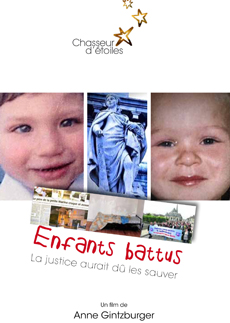 Technical sheet
Infos
Pictures
Videos
version
French and International
support
SD
producer
Chasseur d'Etoiles
director
Anne Gintzburger