Beethoven, Symphony No. 1 in C Major, op. 21
27' - 2010 - Heliox Films
Synopsis
Although still in the style of Mozart and Haydn, the audacious form and orchestration of Beethoven's First Symphony marks a turning point from the classical technique.
The third movement, classical manner "menuetto", is close to a Romantic scherzo: the tempo is much faster than a traditional menuet. The symphony was initially criticized for heavy musical score, particularly in the winds, but was acclaimed by audiences and quickly became one of Beethoven's most popular works.
I - Adagio molto - Allegro con brio
II - Andante cantabile con moto
III - Menuetto : Allegro molto e vivace
IV - Adagio - Allegro molto e vivace
DAVID GRIMAL & LES DISSONANCES
The Dissonances, homage to the famous quartet of Mozart, is a collective of artists created by violinist David Grimal. The musical ensemble without conductor, has an absolute liberty of programming choices. This independence offers musicians the opportunity to meet a new audience sometimes intimidated by the so-called classical music and to bring the public a new vision of the major repertoire.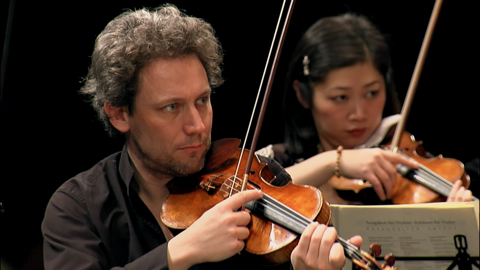 Technical sheet
Infos
Pictures
Videos
version
French & International
support
HD
producer
Heliox Films
director
Frédéric Delesques