Bestiaire d'Amour / Porno Green– Isabella Rossellini & Jean-Claude Carrière
68' - 2014 - CLC Productions
Synopsis
A conference/lecture on the sexuality of insects.
Who invented sex? Why? How?
We try to answer these questions by examining the animal world from pachyderms to bugs.
And how many surprises, how many strange things we find! Males devoured after copulation, wild orgies, fierce fights, dances, seductions, impulses, inexplicable acrobatics, deadly enigmas, perversions, pregnant males, newborns eaten alive... Nature seems to have confused and covered its myriad tracks, as if life, in order to reproduce, was forced to participate in a dangerous and chaotic game.
This transmission of life at all costs provides the basis for a strange, intriguing and scary show permeated with the unavoidable question: and us? Where are we in all this?
Recorded at the Théâtre du Gymnase in Marseille.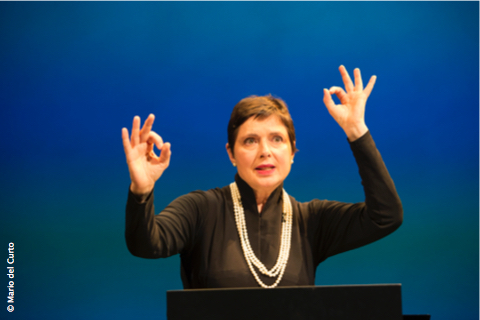 Technical sheet
Infos
Pictures
Videos
version
French
support
HD
producer
CLC Productions
director
Laurent Préyale