Brahms: String Sextet No.1 in B-flat major, Op. 18
38' - 2013 - Heliox Films
Synopsis
This sextet for two violins, two violas and two cellos was completed in 1860 in Ham. Nicknamed the "Spring Sextet", the first two movements have a pastoral air. This work has to be played with exceptional commitment to reveal its true nature, which is exactly what Les Dissonances do here. It is driven by a simplicity, energy and nobility that reflect Brahms' tormented soul at that time. Incidentally, Louis Malle used the sextet in his film "The Lovers".
DAVID GRIMAL & LES DISSONANCES
The Dissonances, homage to the famous quartet of Mozart, is a collective of artists created by violinist David Grimal. The musical ensemble without conductor, has an absolute liberty of programming choices. This independence offers musicians the opportunity to meet a new audience sometimes intimidated by the so-called classical music and to bring the public a new vision of the major repertoire.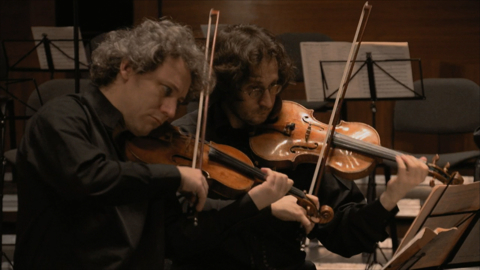 Technical sheet
Infos
Pictures
Videos
version
French & International
support
HD
producer
Heliox Films
director
Frédéric Delesques