Brahms: symphony N ° 1 in C minor, op.68
46' - 2014 - Heliox Films
Synopsis
Johannes Brahms composed his first symphony late in life, beginning it in 1862 and completing in 1876. Legend has it that his decision to tackle the genre was prompted by his finding a pen on Ludwig van Beethoven's tomb in 1862. It represented the return to the great classical symphony, while fashion was for "Programme music" of the late Romantics and the last operas of Richard Wagner.
DAVID GRIMAL & LES DISSONANCES
The Dissonances, homage to the famous quartet of Mozart, is a collective of artists created by violinist David Grimal. The musical ensemble without conductor, has an absolute liberty of programming choices. This independence offers musicians the opportunity to meet a new audience sometimes intimidated by the so-called classical music and to bring the public a new vision of the major repertoire.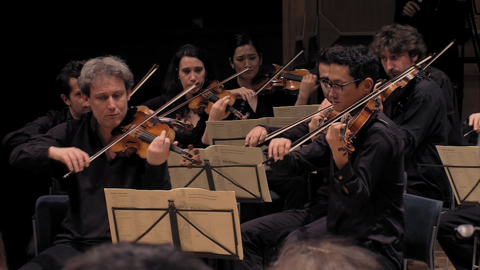 Technical sheet
Infos
Pictures
Videos
version
French & International
support
HD
producer
Heliox Films
director
Frédéric Delesques