Brahms, Symphony N°2 in D major, op.7
42' - 2015 - Heliox Films
Synopsis
After the slow maturation of the First Symphony, the composition of the second one takes one year and its creation in Vienna by Wagnerian conductor Hans Richter is a success. Everybody find it more understandable and brighter. Brahms himself spoke of " waltze series" or "gay and innocent little symphony"
Yet he said to his publisher Simrock: "I've never wrote anything so sad [...]: the partition should be edited with a black frame "; He also wrote to the composer Vinzenz Lachner who deplored the darkness trombones and tuba in the non troppo Allegro: " I must admit that I am an extremely melancholic man."
It is therefore a work of internal contrasts where serenity of classical heritage mingles with northern tensions.
DAVID GRIMAL & LES DISSONANCES
The Dissonances, homage to the famous quartet of Mozart, is a collective of artists created by violinist David Grimal. The musical ensemble without conductor, has an absolute liberty of programming choices. This independence offers musicians the opportunity to meet a new audience sometimes intimidated by the so-called classical music and to bring the public a new vision of the major repertoire.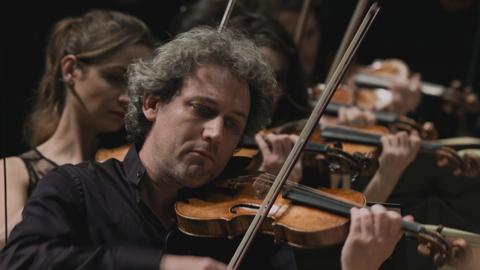 Technical sheet
Infos
Pictures
Videos
version
French & International
support
HD
producer
Heliox Films
director
Frédéric Delesques