CANTI A LUCENDILUNA
87' - 2023 - Tangaro/CLC Productions - Beaubourg – Brama Events -Télé Paese – TL7 télévision Loire 7
Synopsis
Recorded in front of an audience outside the Museum of Corsica, La Citadelle, Corti.
A show created by Stéphane Casalta (Corsica) and Franco Radicchia, director of the Armoniosoincanto Choir (Perugia, Italy).
Repertoire: songs by Stéphane Casalta, songs from the Mediterranean and elsewhere featuring predominantly female voices (Gruppo Vocale Armoniosoincanto).
Vocal arrangements by Erik Bosio.
Guitar: Luca Falomi.
Lead singers: Stéphane Casalta and Rosela Libertad.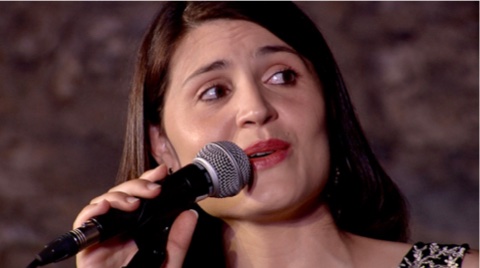 Technical sheet
Infos
Pictures
Videos
version
Music / concert
support
HD
producer
Tangaro/CLC Productions - Beaubourg – Brama Events -Télé Paese – TL7 télévision Loire 7
director
Stéphanie Jue