DELPHINE COUTANT: 2 Solar Systems
72' - 2023 - Tangaro/CLC Productions – Comme le café – TéléGrenoble – Télé Paese
Synopsis
Poetess, composer, musician and singer, Delphine Coutant leads us into the world of mythology and ancient tragedies. Like Camille, Claire Diterzi and a few others, Delphine Coutant breaks the rules of French song, taking us on a journey into a mysterious, sophisticated and unclassifiable universe.
Songs with romantic, baroque, Faurean accents, somewhere between popular refrains and lieder, into which a few electronic sounds delicately invite themselves.
The violin sculpts the stone, strings and brass gravitate around the sound space like planets, the piano darts out notes and radiates all around. Plate tectonics and ice fires sing on Enceladus.
Like an opera, this show highlights the musical richness and visual creation that is an integral part of the musical work. The placing of the musicians in a kind of ellipse around the piano evokes the gods of Olympus; and from there arise the images of Pegasus, Medusa, gods of the constellations present in the songs.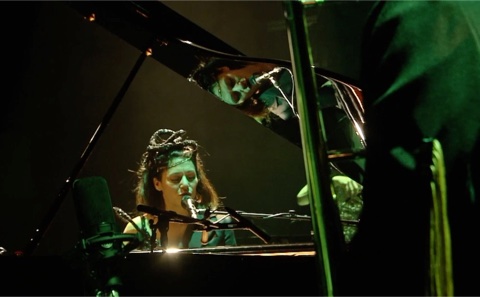 Technical sheet
Infos
Pictures
Videos
version
Music / concert
support
HD
producer
Tangaro/CLC Productions – Comme le café – TéléGrenoble – Télé Paese
director
Laurent Préyale