DID YOU SAY PRIMITIVE? Music and instruments from prehistory
63' - 2021 - Tangaro/CLC Productions – Musique Plurielles – TéléGrenaoble - LCN - La Chaîne Normande TV
Synopsis
Telling the wonderful tale of music and the origin of instruments, this show takes the audience on a journey through time, space and the imagination to the heart of prehistory and the beginnings of humanity, and offers a lively and original approach to musical archaeology and ethnomusicology.
Guy Thevenon reveals an aspect of prehistoric life and embarks upon a methodical exploration of human gestures: hands that rub, strike, shake, grip; a breath that enters pipes and vessels, thus giving more than 300 sonorous objects and musical instruments a voice with which to describe its own particular story, role and country. A strange song rises up from the water, earth, stones and wood and touches the audience deep inside...
The show is further enhanced by technical and musicological explanations and punctuated with anecdotes illustrating the use, practices or rituals associated with certain instruments.
An initiatory journey for audiences of all ages down the long road of humanity to the origins of sound.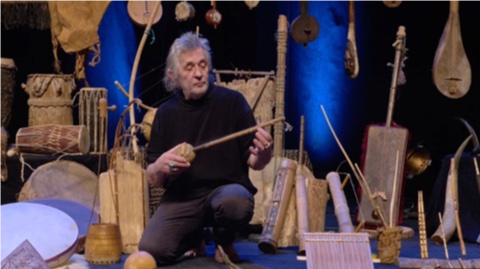 Technical sheet
Infos
Pictures
Videos
version
Music / Concert
support
HD
producer
Tangaro/CLC Productions – Musique Plurielles – TéléGrenaoble - LCN - La Chaîne Normande TV
director
Laurent Préyale