Dispensing Justice
2 x 55' - 2018 - TV Presse
Synopsis
The daily life of a Court in France
A man burdened with debt collapses in tears. A teenager self-harms to cure her illness. An inmate confesses that he is anything but "innocent". Another justifies his violence because, according to him, women have "smaller brains than men"...
These stories - dramatic or moving - constitute the daily life of the high court in Vienne, a city with 30,000 inhabitants in Isère, south of Lyon in the Rhone Valley.
Behind the Palace walls, the magistrates and clerks are confronted every day with acts of routine violence. A total of 15,000 procedures are handled here every year, with 300 people brought before the court and a gallery of insolent, comical, mendacious or devastated litigants who have to explain themselves in front of the judge.
How are judgements made? How are people brought to justice? How are those who break the law correctly punished, without ever forgetting the victims? Such are the complex tasks faced every day by these officials in the difficult performance of their duties. A task that's sometimes so complicated that it leaves the viewer happy not to be wearing the judge's robes!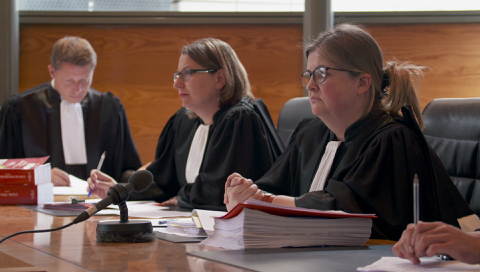 Technical sheet
Infos
Pictures
Videos
version
French, M&E
support
HD
producer
TV Presse
director
Michaël PRAZAN