DREAM MOUNTAINS
4 x 52' - 2018 - 2013 - VERTIGES Production
Synopsis
Amateur mountaineer Carole Dechantre sets off to climb the most famous peaks and shares her alpine adventures with us.
SPITZBERGEN (2019)
Located just 1,100 km from the North Pole, the Norwegian archipelago boasts breathtaking landscapes of beauty that Carole and her 8 year old son, Nils, discover aboard the Kamak sailing boat then hiking on skis through these unnamed summits.
THE MONCH & The JUNGFRAU (2015)
Along with the Eiger, the Mönch (4107m) and the Jungfrau (4158m) constitute the three myths of the Bernese Oberland.
THE GRAN PARADISO (2013)
The Gran Paradiso is one of the most accessible mountains in the Italian Alps, except when it's hit by a storm...
THE EIGER (2013)
The Eiger, or Ogre, is aptly named, because its North Face is one of the most famous in the Alps and has been the scene of many exploits and tragedies, which live on in our memories.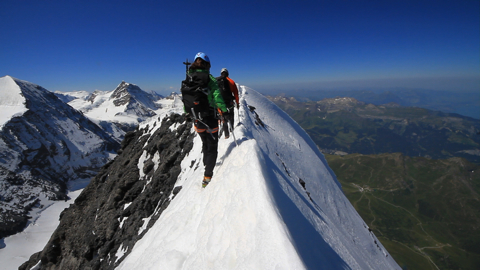 Technical sheet
Infos
Pictures
Videos
version
French, English & International
support
HD
producer
VERTIGES Production
director
Sébastien Devrient