El Fuego Latino (Alondra de la Parra / Alexis Cardenas)
91' - 2016 - Heliox Films
Synopsis
Alondro de la Parra is a phenomenon: luminous and charismatic, she has established herself as one of the first female chief conductors of a major symphony orchestra with natural ease and brilliance.
Her enthusiastic, generous and spellbinding performances make her concerts a real treat.
Alexis Cardenas, virtuoso soloist from the Orchestra National d'Ile-de-France and graduate of the prestigious El Sistema in Venezuela (which also produced the great conductor Gustavo Dudamel), joins her in a tailor-made programme: great works from the repertoire inspired by dances and exotic music and South American music of an irresistible charm. The icing on the cake: Recoveco, with their unique blend of traditional music from Venezuela, Colombia and Brazil.
Carlos CHAVEZ - Sinfonia india
Camille SAINT-SAENS - Introduction et rondo capriccioso
Maurice RAVEL – Tzigane
Aldemaro ROMERO - Fuga con pajarillo
Heitor VILLA-LOBOS - Bachianas brasileiras n° 7
Recorded on December 13, 2016 at the Philharmonie de Paris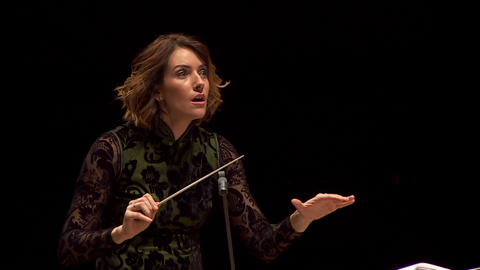 Technical sheet
Infos
Pictures
Videos
version
French & International
support
HD
producer
Heliox Films
director
Colin Laurent