Elijah (Mendelssohn)
133' - 2014 - CLC Productions
Synopsis
Created in August 1846, at the Birmingham Festival, this oratorio is a real popular success since its first representation, which was aclaimed by two thousand people. It depicts perfectly Mendelssohn's classical and romantic trends.
The libretto is based on the Old Testament, relating three events of Elijah's life.
Someone picturesque, with lots of passion and zeal who progresses in the knowledge of God and Himself.
The libretto focuses particularly on the Book of Kings, which deals with a tough world, with a suffering people in which lives God intervene directly.
Daniele Gatti conducts the French National Orchestra and the Radio France Choir in the Cathedral Basilica of Saint Denis near Paris.
PHOTOS : © DR - CLC PRODUCTIONS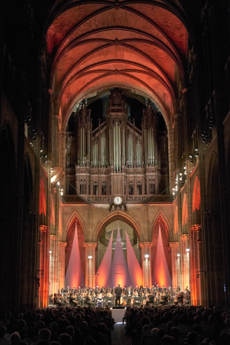 Technical sheet
Infos
Pictures
Videos
version
Music & Concert
support
HD
producer
CLC Productions
director
François-René Martin