For the Children of Cambodia
29' - 2012 - Durite Productions
Synopsis
This is the story of a love affair between a French couple, Sandra and Gilles, and a country, Cambodia. The pair gave up everything to devote their lives to helping Cambodian children. In this country, in which 30% of the population lives beneath the poverty line, children are the first to suffer, forced to work to help their parents and sometimes even sold to prostitution rings.
The plight of these children first came to Sandra's attention in the 1990s when she was on an assignment for Médecins Sans Frontières. At the time, she didn't see what she could do to help. It was a few years later that she and her husband, Gilles made their first gesture: unable to have children themselves, the couple went to Cambodia to adopt Clara, who was then 8 months old.
The process inspired them to do even more and Sandra and Gilles went on to create an association and a home for abandoned children in Cambodia. Today, forty-three children live together in the orphanage, which bears the name of their daughter Clara. Many of the children are indeed orphans, but others come from families too poor to look after them and are there on a temporary basis.
Sandra lives in the orphanage all year round with her daughter, Clara, who is now 10 and is fighting the battle alongside her parents. Clara sees the other children as her friends if not members of the family and is always ready to give the nurses a hand. Gilles lives in France. He continues to work as a doctor in Brétignoles-sur-Mer to support the family. He comes to Cambodia four times a year. Between teaching the children, monitoring their health, feeding them and maintaining the orphanage buildings, the couple rarely have a moment to themselves and have little time for family life. Their aim is simple: to save the children and help their families. Despite this, Gilles' trips to Cambodia also allow him to spend precious moments with his daughter Clara.
In an attempt to help these children and their families as much as possible, Gilles and Sandra are constantly thinking up new ways to raise extra funds. One of their latest ideas is to organise cruises down the Mekong. They hope to attract a lot of tourists, who will help to finance their endeavours.
The Cambodian government has finally decided to reopen adoption to foreign families and the couple now have a new challenge: to find homes for these children, so that they grow and live "like other people".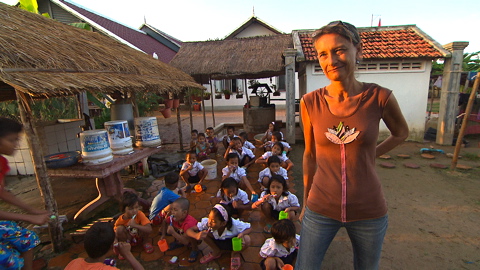 Technical sheet
Infos
Pictures
Videos
version
French and International
support
HD
producer
Durite Productions
director
Stéphane Cascino