GETTING IN CLOSE : UNDERWATER PREDATORS
6 x 52' - 2023 - IN PRODUCTION - Factual Factory / AH ! Production
Synopsis
A serie that hinges on photographing unforgettable images of fascinating underwater creatures in far-flung, exotic locations. Each expedition follows a specific animal but unfolds in several stages, as the keys that make possible the final, up-close encounter are revealed.
Getting in close, real close. It's the key to capturing images of great power and beauty.
But it's also the key to discovering nature.
"Go closer" is the personal mantra
 of renowned underwater photographer Rodolphe Guignard. It guides him in his work of capturing breathtaking images of some of the world's most captivating creatures.
« Getting in close is what separates a good shot from a fantastic one. It's the difference between seeing a crocodile, and marvelling at the incredible details in its jaws. Between seeing an anaconda, and being mesmerized and transformed by it... »
But getting in close is about much more than getting great photos. It's about connecting with animals in an intimate way, passing the rarely crossed threshold from observation to communication.
« You have to blend in, and lose yourself a little in front of the animal. I want that connection, that physical dimension to the encounter. But it's an entire journey to get there. »
Some animals, like the American Crocodile, are dangerous and unpredictable; others, like the Green Anaconda, are notoriously elusive. All of them require scientific understanding, careful planning and teamwork if Rodolphe—and a great team of expert guides, professional divers, and naturalists—is to get right up close to them. It's a collegial quest through remote and often inhospitable territory, but always carried out with great respect.
« When I'm diving, I act like a guest in someone else's world. I'm the one making the incursion and if I enter without discretion, there's no way I'll get the images that we're after. And I could get seriously hurt. »
Many encounters are thick with tension—no matter how much research you've done, no one swims lightly with crocodiles. But regardless of the creature, every dive is a thrill. Will Rodolphe's investigations into this animal and its behaviour pay off? Will he succeed in getting within touching distance? Understanding, admiration and fascination come together in the click of the shutter... and the final picture says it all.
« I aim to capture bursts of life that challenge or astonish. It's the first step towards motivating people to engage in protecting the natural world. »
No matter the location or animal, the journeys are always rich in twists and turns, full of unexpected interactions with other phenomenal species, all of it undertaken by a charismatic crew passionate about conservation and the natural world. By episode end, our view of the creatures Rodolphe photographs is transformed; what was monstrous appears remarkable, what was alien becomes familiar, and the lethal turns graceful.
Crocodiles (Banco Chinchorro, Mexico)
Orcas (Norway)
Anaconda (Mato Grosso, Brazil)
Humboldt Squid (Baja California, Mexico)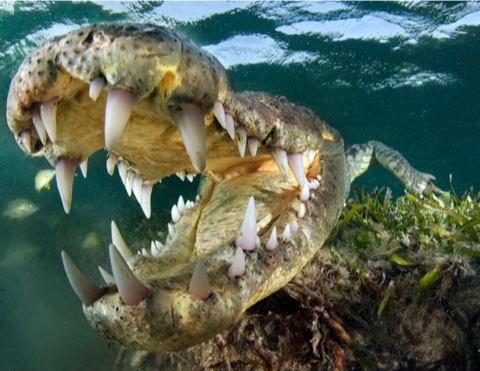 Technical sheet
Infos
Pictures
Videos
version
French, English, M&E
producer
Factual Factory / AH ! Production
director
Nicolas Brénéol