Goudji, Sacred Art !
52' - 2011 - Lukarn
Synopsis
Goudji, the goldsmith dearly beloved by bishops and Academicians, is known in artistic circles as a creator who defies classification: gold working would seem to be a forgotten art, but yet, impressed by his talents, numerous museum curators have opened their doors to him. Goudji is the first artist to have designed a collection of jewellery for the Louvre Museum. Influenced by the great western myths and long-gone civilisations renowned for their artistry, his skill as a goldsmith, his creativity and his inspiration have all been recognised.
Apart from the satisfaction of recording the creation of immortal works of art, we will also have the great pleasure of revealing Goudji's relationship with the Church and spirituality. Now in his seventh decade, Goudji has never tired of working precious metals.
AVAILABLE ON DVD:
http://www.harmattantv.com/videos/film-(vod-dvd)-2767-Goudji-sacre-Art--DOCUMENTAIRES.html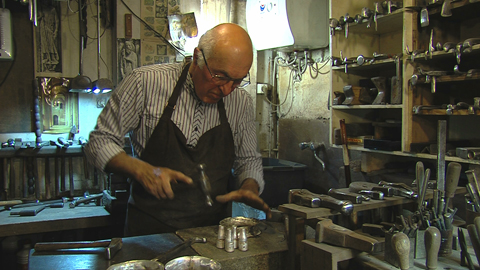 Technical sheet
Infos
Pictures
Videos
version
French, English, International
support
HD
producer
Lukarn
director
Virginie Berda