HAYASTAN, THE IMAGINARY COUNTRY
52' - 2011 - Symphonia Films
Synopsis
In April 2010, I followed the Armenian national rugby team on a trip to Yerevan. The team is mainly composed of players from the French Armenian Diaspora. Between the historical imagery passed on by their grandparents and the reality of Armenia today, there has been 70 years of Communism...
My film revolves around the French players from the Diaspora who make up the team, who will be playing two matches in Armenia to qualify for the European amateur rugby championships. It will be an opportunity not only to film from within the team, but to get a better understanding of their relationship with the local Armenians.
Considered a bourgeois and decadent activity by the Armenian Supreme Soviet and a strange new Western idea by the people, rugby reached Armenia in the 1960s. By the middle of the 90's, "the dark years", it was a minority sport, most people's minds being occupied with how to feed, heat and clothe themselves.
It wasn't until 2002 that a desire arose amongst the French Armenian Diaspora to create a national rugby team.
Since then, there have been many changes in the line up, but for the first time in the history of the sport, the national team is composed entirely of players from a foreign country!
With the International Rugby Board allowing 3rd generation players to play for their native country, the challenge for this team is to bring in young Armenians as quickly as possible, because the majority of the French players are part of this famous 3rd generation.
The two-week trip that I'll be filming, along with the accompanying matches (one against Andorra, the other against Serbia) will be an opportunity to put everyone's expectations into perspective.
Through the team, I will try to photograph and analyse the different elements of the French Diaspora, and its exchanges with the Armenians of Armenia. Between the sporting challenge and the association's desire to develop the team, we will see the complexities of cultural exchange and the long road to understanding that still has to be travelled.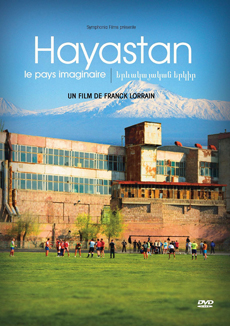 Technical sheet
Infos
Pictures
Videos
version
Française, Anglaise et Internationale
support
HD
producer
Symphonia Films
director
Franck Lorrain