Jacky Terrasson at the Olympia
103' - 2015 - Heliox Films
Synopsis
The new album of Jacky Terrasson, rich of diversity and inspiration, is creating a dialogue between post-bob, pop, hip-hop, African, Caribbean and even classical musics. Various musicians accompanied him: the American bassist Travis Burniss, Cuban drummer Lukmil Perez, Malian percussionist Adama Diarra and the French virtuoso human beat box Sly Johnson.
A cosmopolitan approach that reflects the Jazz's ability to blend into every background without forgetting his Afro-American heritage. He pays tribute to great jazz compositions like "Un Poco Loco" by Bud Powell and "Blue in Green" by Miles Davis and dares a personal composition for the famous "Maladie d'Amour" by Henri Salvador. Through this musical dialogue that combines simplicity and efficiency, "Take This" marks a new stage in the discography of Jacky Terrasson.
GUESTS: Cecile Mc Lorin, Mathilde & Anne Sila, Marcio Faraco, Stéphane Belmondo.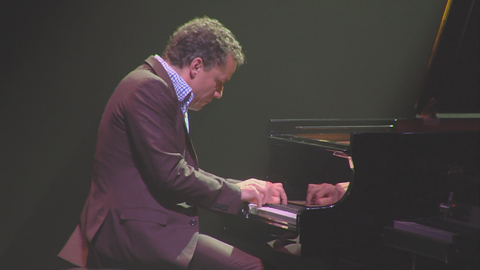 Technical sheet
Infos
Pictures
Videos
version
French & International
support
HD
producer
Heliox Films
director
Colin Laurent