Jean Sibelius, violin concerto in D minor op. 47
33' - 2015 - Heliox Films
Synopsis
Sibelius's music combines popular inspirations with theoretical legacies. The violin concerto, the only the maestro composed, in 1903-1905, is very traditional in form : three movements (fast long, slow, fast short). It opens on small misty waves to the strings while the violin began its first theme. Then the machine starts quickly and the story begins.
DAVID GRIMAL & LES DISSONANCES
The Dissonances, homage to the famous quartet of Mozart, is a collective of artists created by violinist David Grimal. The musical ensemble without conductor, has an absolute liberty of programming choices. This independence offers musicians the opportunity to meet a new audience sometimes intimidated by the so-called classical music and to bring the public a new vision of the major repertoire.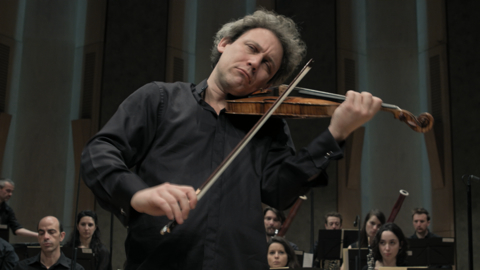 Technical sheet
Infos
Pictures
Videos
version
French & International
support
HD
producer
Heliox Films
director
Frédéric Delesques