KAZ HAWKINS : Memories of Etta
96' - 2020 - Tangaro /CLC Productions – On The Road Again – La Traverse – Télénantes – LCN La Chaîne Normande - viàLMtv Sarthe
Synopsis
Born in Belfast, the Northern Irish singer Kaz Hawkins is a surprising artist, as much for her deep and powerful voice, her original songs and her soulful tracks as for her personality and charisma. Full of life and with a stage presence that has led her to be more than just a songwriter, Kaz Hawkins is simply solar.
Her video "Lipstick & Cocaine", taken from one of the songs on the album, has gone viral with over a million views to date on Facebook.
After suffering severe physical and emotional abuse since childhood and being left for dead by a partner who slit her throat, Kaz Hawkins shares a spectacular survival story in performances of rare emotional intensity.
It's impossible to remain unmoved by this live performance by Kaz Hawkins, the Soul Superstar of Northern Ireland!
Recorded at La Traverse (Cléon) on March 5th, 2020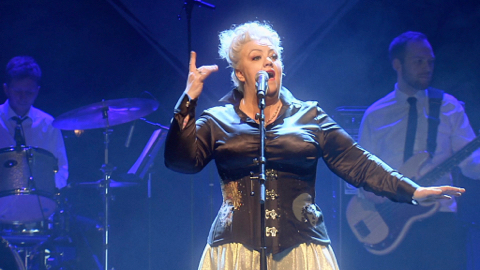 Technical sheet
Infos
Pictures
Videos
version
Music / Concert
support
HD
producer
Tangaro /CLC Productions – On The Road Again – La Traverse – Télénantes – LCN La Chaîne Normande - viàLMtv Sarthe
director
Laurent Préyale