KOUM TARA
81' - 2021 - Tangaro/CLC Productions – Ensemble Sequenza – TL7 télévision Loire 7 – LCN La Chaîne Normande
Synopsis
A real cultural journey that offers us a unique musical alliance: poetry and traditional Chaâbi melodies about Love blend and fuse with the traditions of Western string quartets, jazz improvisation and electronic music.
The KOUM TARA group is the meeting of four musical universes around the same project, created and directed by the composer Karim Maurice: traditional chaâbi music, a classical string quartet, contemporary music, and jazz.
The raw material has been extracted from the traditional repertoire of Algerian chaabi singer Sid Ahmed Belksier. These themes have been re-worked, re-formed, re-harmonised and re-structured to create an original show that combines and crosses cultures. Each musician brings his own identity and specific knowledge to the same piece.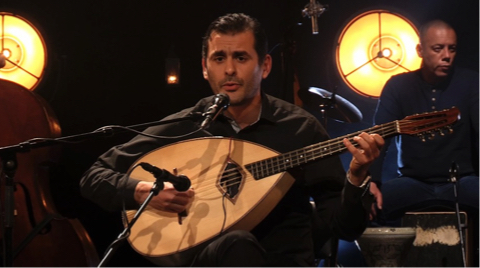 Technical sheet
Infos
Pictures
Videos
version
Music / Concert
support
HD
producer
Tangaro/CLC Productions – Ensemble Sequenza – TL7 télévision Loire 7 – LCN La Chaîne Normande
director
Pierre Simboiselle