L'Ébloui (The Dazzled)
56' - 2019 - CLC Productions (Tangaro) / Association Le Carrosse D'Or -ARS Nova Ensemble Instru - La Soufflerie- La Chaîne Normande - TV Grenoble - Télénantes
Synopsis
An Opera for everyone (from 8-years old).
This opera for three singer-puppeteers and three musicians, recounts the initiatory journey taken by young Horn. During his odyssey, he is confronted with the evils and injustices of the world and meets some fabulous characters, including a blue giraffe and a three-headed donkey, that help him in his quest to find peace.
His story is that of every child who discovers, learns and marvels...
Audiences of all ages are captivated by this contemporary opera, infused with the powerful and poetic breath of a mythological tale and performed in a wonderful setting.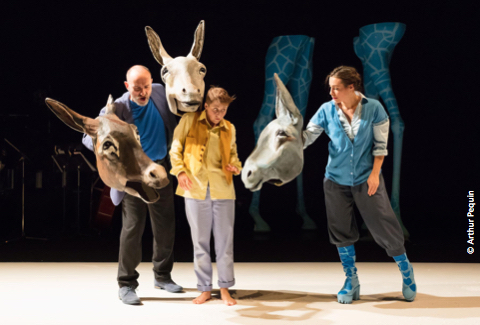 Technical sheet
Infos
Pictures
Videos
version
Music & concert
support
HD
producer
CLC Productions (Tangaro) / Association Le Carrosse D'Or -ARS Nova Ensemble Instru - La Soufflerie- La Chaîne Normande - TV Grenoble - Télénantes
director
Laurent Préyale