Ljos / Fuse *
23' - 2016 - CLC Productions
Synopsis
Recorded during the 2016 Scopitone Festival
Ljos ("light" in Icelandic) is a real-time dance performance for string players with video projection.
The dancer Elena Annovi is suspended in a harness in front of a massive screen upon which video and light are back-projected. The sensation of lightness and lack of gravity evoked by this aerial choreography is made possible by the synchronization of video, that comes alive and responds in real time to the performer's movements.
An interaction between the human body, light and sound, which gives Ljos its power as well as highlighting the union of art and science, technology and dance.
An Italian collective founded in 2007, Fuse * is a leader in the field of digital and innovative arts and has produced numerous pieces, installations and performances. With Ljos, Fuse * is at the origin of an astonishing show, a singular and sensitive interaction between light, sound and the human body, which transcends perception in a dreamlike and disturbing way.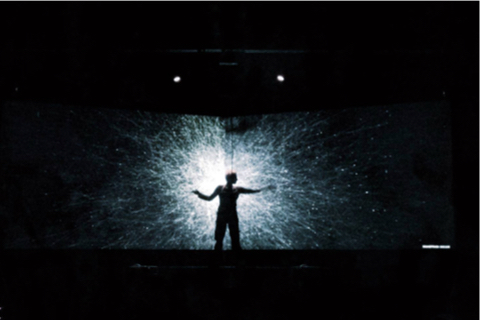 Technical sheet
Infos
Pictures
Videos
version
Music & concert
support
HD
producer
CLC Productions
director
Laurent Préyale