Marcus Miller – Jazz in Vienna 2013
56' - 2013 - ZYCOPOLIS Productions
Synopsis
In a packed amphitheatre, Marcus Miller's fans, old and young, greet the man who has played bass on more than 500 recordings with a massive ovation. The heart of his programme is based on the superb compositions from the album "Renaissance". In "Detroit", "Redemption", "February", "Jekyll & Hyde", Marcus Miller hands out solos and pushes his musicians in the style of Miles Davies, while "Gorée", a composition inspired by a visit to the House of Slaves on the island of the same name, is played with great emotion on the bass clarinet. A cover of "Slippin 'Into Darkness" (by War) combines James Brown funk with some surprising extensions...
Miller has just been appointed an Artist For Peace, acting as a spokesman for the UNESCO "Slave Route" project.
Performers :
Marcus Miller (b, bcl)
Brett Williams (k)
Alex Bailey (dms)
Russell Gunn (tp)
Alex Han (sax).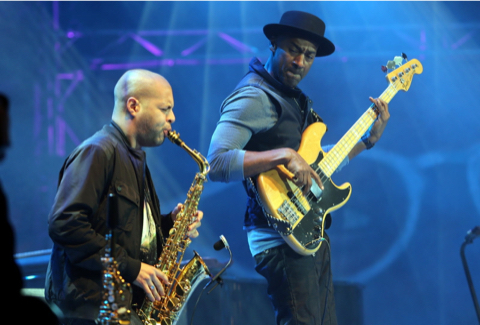 Technical sheet
Infos
Pictures
Videos
version
Music & Concert
support
HD
producer
ZYCOPOLIS Productions
director
Patrick Savey