Masters of Art : Sculpting the air
13' - 2017 - Home & Images
Synopsis
They are rare professions of which we know almost nothing. Yet, they nourish French creativity…
Episode dedicated to Bertrand Cattiaux, organ builder.
Building an organ means giving a place and a community an instrument for many centuries. Virgile Bardin, a pupil of the Master of Art Bertrand Cattiaux and former Compagnon du Tour de France des Devoirs Unis, already knows the secrets of organ making.
But he still has a whole world to discover: learning to sculpt the air, to give the pipes a voice, according to a subtle and ethereal skill: French harmony.
The art of harmony cannot be written down, cannot be drawn. We cannot learn it from books. It is passed on through gestures, speech and, above all, through experience. The Master, Bertrand Cattiaux, has spent decades listening, comparing, studying. Travelling Europe to discover the subtleties of this or that instrument, the nuances of this or that harmony.
Armed with patience and curiosity, he has gradually "developed his ear". And it is this patience and exactitude that Virgile is learning today, sculpting his own ear, ready for harmony.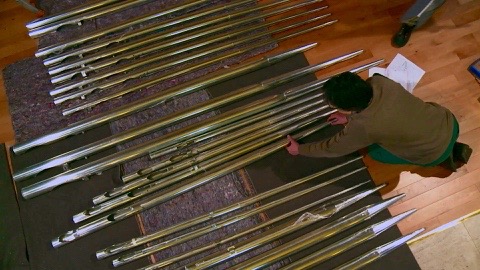 Technical sheet
Infos
Pictures
Videos
version
French, english, M&E
support
HD
producer
Home & Images
director
Aurine Crémieu