Modern Mermaids
52' - 2015 - PARCE QUE !
Synopsis
Two businesswomen go underwater hunting. Valerie and Valentine, in suits and high heels, both lead hectic lives as businesswomen. One operates in London in the world of finance, while the other, a French athletic bodybuilding champion, works with the teams of a leading car manufacturer.
The film follows them surrounded by veteran sailors in Britain and South Africa during their spear-fishing trips, which provide a calming antidote to their hyperactive urban lifestyles.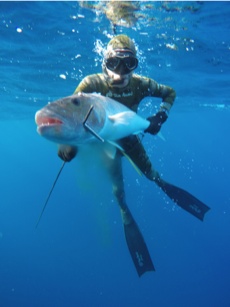 Technical sheet
Infos
Pictures
Videos
version
French & International
support
HD
producer
PARCE QUE !
director
Marc Wattrelot