MONK, PANNONICA, an american story
52' - 2021 - CFRT Productions - a_BAHN
Synopsis
Based on the discovery of a forgotten book of photographs and notes, the film recounts the relationship, outside the narrow social norms of America in the 1950s, between the white aristocrat Pannonica de Koenigswarter, author of the book, and the brilliant black pianist Thelonious Monk at a time when black musicians were fighting for recognition of their art.
Born out of indifference, hostility and contempt for white America, jazz underwent a revolution in the mid-1940s. It was Bebop that shattered the gilded cages of the "Cotton Club" and "La Revue Nègre" allowing Jazz to deliver on its promise to become a major art form of the twentieth century. It was the start of the Jazz Age, but it would take another twenty years before America realised it: twenty years of hardship for most musicians of this generation.
The photos and secret hopes of the musicians collected together in this elegant red leather notebook by the "Baroness of Jazz" express the numerous difficulties that these musicians, who are not very sensitive to concessions, had to face. With most of them living in total poverty, they invented a now universal musical form: Jazz.
The film describes this long journey from the figure of the outcast to that of the composer.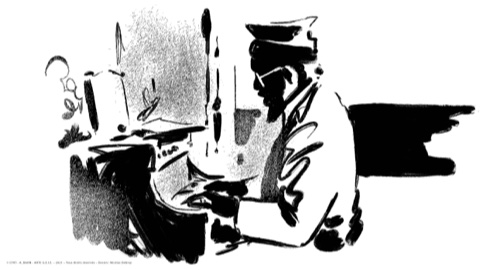 Technical sheet
Infos
Pictures
Videos
version
French, M&E
support
HD
producer
CFRT Productions - a_BAHN
director
Jacques Goldstein