Monteverdi's Madrigals, Book II
70' - 2012 - CLC Productions
Synopsis
Paul Agnew's monumental project to perform all eight books of Monteverdi's madrigals in just four years seems as ambitious as performing the complete works of Bach! A bold challenge, like the work itself. Contained within these eight Books are the foundations of modern music, from the end of the Renaissance madrigal born of Franco-Flemish art, to court ballets (the Ballo Delle Ingrate) and operatic scenes ("The Combat of Tancredi and Clorinda"). For Monteverdi, this means half a century of music, experimentation, and discovery as well as masterpieces including "Zefiro torna" and "Lamento della ninfa".
The madrigalists brought together by Paul Agnew are duty bound to pay a sonorous tribute to this fundamental body of work.
This complete cycle, presented in partnership with the Cité de la Musique-Philharmonie de Paris and Théâtre de Caen, has taken Les Arts Florissants not only across France to cities including Belfort, Flers, Blois, Versailles, Paris... but Europe, with performances in Bergen, Venice, London, Rotterdam, Ghent, Madrid, Girona, Vallaolid, Prague, Antwerp, Stockholm and Dresden.
PHOTOS : © DR - CLC PRODUCTIONS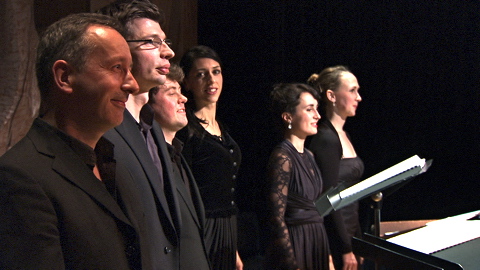 Technical sheet
Infos
Pictures
Videos
version
Music & Concert
support
HD
producer
CLC Productions
director
Isabelle Soulard