Mozart, concertos for violin N°1, N°2, N°3, N°4, N°5
112' - 2014 - Heliox Films
Synopsis
Passionate about freedom and sharing and eschewing conservatism, Les Dissonances brings the freshness back to Mozart's five violin concertos. Led by David Grimal's Stradivarius, the twenty-six-piece ensemble reveals the luminosity and virtuosity of these works.
Composed in his youth, the violin concertos are Mozart's first attempts at this musical form. Although concertos 1 and 2 are still inspired by the "gallant" style, those that follow show greater complexity and mastery.
This body of violin concertos will be punctuated by the concerto for clarinet, Mozart's last concerto and the only one he composed for this instrument, as well as the concerto for oboe.
DAVID GRIMAL & LES DISSONANCES
The Dissonances, homage to the famous quartet of Mozart, is a collective of artists created by violinist David Grimal. The musical ensemble without conductor, has an absolute liberty of programming choices. This independence offers musicians the opportunity to meet a new audience sometimes intimidated by the so-called classical music and to bring the public a new vision of the major repertoire.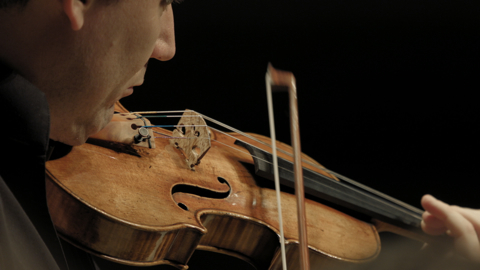 Technical sheet
Infos
Pictures
Videos
version
French & International
support
HD
producer
Heliox Films
director
Frédéric Delesques