MUDDY GURDY – Grésiblues Festival 2021
56' - 2021 - Tangaro/CLC Productions – Chantilly Negra – Grésivaudan Blues Festival – TéléGrenoble – LCN-La Chaîne Normande
Synopsis
The blues is arguably the most universal music in the world. It has been translated, sung and performed in all languages. But never like Muddy Gurdy.
The trio comes from the Auvergne, the "Appalachians of central France". It consists of a singer-guitarist who could be the spiritual daughter of RL Burnside and Jessie Mae Hemphill, a percussionist with a love of Latin rhythms, and an internationally renowned hurdy-gurdy player.
Their blues repertoire is adapted to the Auvergne climate: their compositions include covers and get us dancing to the bourrée and boogie at the same time.
Their 2nd album, Homecoming, is a reflection on the similarities in rural music from around the world, Creolity, and the modernisation of cultural traditions.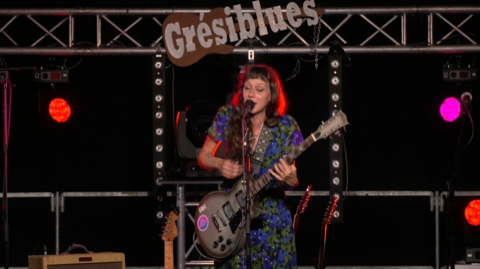 Technical sheet
Infos
Pictures
Videos
version
Music / Concert
support
HD
producer
Tangaro/CLC Productions – Chantilly Negra – Grésivaudan Blues Festival – TéléGrenoble – LCN-La Chaîne Normande
director
Laurent Préyale