My pink city
16x26' - 2010-2011 - Kanari Film
Synopsis
My Pink City is a documentary series that makes the small provincial towns come out of the closet.
This is an invitation to a journey on the French roads, to meet men and women, witnesses or actors in the French gay life, in any sexual orientation.
10 episodes, 10 provincial towns. Sometimes as a naïve visitor, sometimes as an experienced guide, Thierry Benamari will meet those who live homosexuality in their every day life, far from the Parisian model. He will bring us to places where the gay community is expressing itself, to personalities that locally help to make it recognized.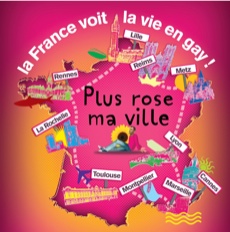 Technical sheet
Infos
Pictures
Videos
version
French, International
support
SD
producer
Kanari Film
director
Thierry Benamari et Antoine Capliez