NOT SILLY QUESTIONS!
105 x 1' - 2021 - BAYARD
Synopsis
This animated show is designed like a TV game show for kids. Geography, the human anatomy, animals, science, history and nature are all part of the roster. Every episode asks a question on a topic, giving viewers a few seconds to think about it and come up with the answer. A tool to help kids learn recreationally, by themselves or with others, in the car or the train, or in the comfort of their own bedroom.
EPISODES :
Is a ladybird with two points 2 years old?
Is cauliflower a flower?
Can a tree be 1 000 years old?
Is there fish in the desert?
Is our planet made mostly of rock or mostly of water?
Can we see in the dark?
Were the growing nails hidden under the skin?
Did Napoleon command his first battle at age 11 ?
Was the bin invented by Mr Bin ?
Can we touch a rainbow?
Is a kilo of lead heavier than a kilo of feathers?
Do animals have a navel?
Do animals cry?
Is the toad the frog's husband?
Is the South Pole upside down?
Does the moon really change shape?
Have false teeth ever been made from hippopotamus teeth?
Was the mammoth the first domestic animal ?
Are the ear folds useful?
What sea is the Île-de-France in?
Are streams rivers ?
Can carnivorous plants swallow us?
Do trees sleep when it is dark?`
Can animals tan in the sun?
Does the kangaroo put its hands in its pockets?
Do all the stars we see in the sky exist?
Can you separate yourself from your shadow?
Could the trains of old move on water?
Were the first football balls square?
Can we live without sleep?
When we have ants in our legs, are they real ants?
Were the first maps drawn on dinosaur skins?
Is the Earth perfectly round ?
Can it rain when there are no clouds?
Can the plants fly?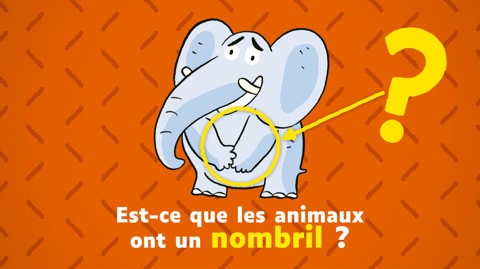 Technical sheet
Infos
Pictures
Videos
version
French, English, M&E
support
HD
producer
BAYARD