NOT SO CLASSICAL
75' - 2022 - CLC/Tangaro – Autrement classique – TéléGrenoble – TL7 télévision Loire 7
Synopsis
A CLASSICAL CONCERT SUFFUSED WITH SPIRIT!
Have you ever wondered what the weather was like when Brahms was composing his Opus 119? Why Tchaikovsky didn't write a single musical note for the clarinet? And above all, why it's never a good idea to invite an actor to share the stage with musicians?
It's through the intermediary of an erudite and touchingly anachronistic presenter (think Jacques Tati in a tuxedo!) that we enter the world of musical works and their transcription.
Sparkling and charming, the Quatuor Anches Hantées blows the dust off the sometimes austere image of a traditional concert. Moving from Mozart to Trénet, from minuets to funk, the 4 musicians sweep aside convention with their audacious performances.
For more than twenty years, Jean Manifacier has been developing and staging shows that combine classical music and the performing arts (Pleyel, the Philharmonique Royal de Liège, the Opéra de Lyon alongside Cecilia Bartolli, William Christie, the musicians of the Orchestre de Paris, Fayçal Karoui…)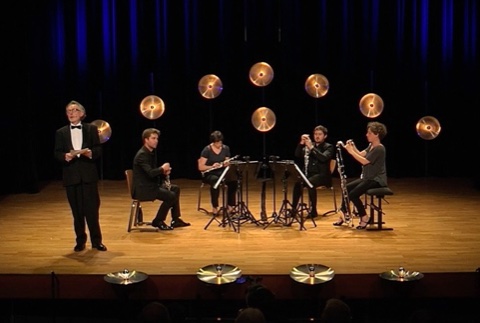 Technical sheet
Infos
Pictures
Videos
version
Music / Concert
support
HD
producer
CLC/Tangaro – Autrement classique – TéléGrenoble – TL7 télévision Loire 7
director
Jérémy ROZEN