NUIT BLANCHE (Sleepless Night) by Jean-Pierre Delpont
66' - 2020 - Tangaro/CLC Productions –Kien Productions – Cinéthéact - Télénantes – TéléGrenoble – TL7 Télévison Loire 7 - LCN La Chaîne Normande
Synopsis
An improbable meeting between Talleyrand and Clémenceau in the middle of the 20th century: another way to visit history.
A century apart, both of these men decided the fate of France and Europe, after two periods in which mankind had lost its way. The ultimate confrontation between two giants with opposing visions of international relations and European equilibrium.
Between mistrust and familiarity, sometimes spiritual and sometimes cynical, they diverge and unite, depending on the circumstances and their convictions, at a time when the event looming in the early hours of that night of November 1970 stands a strong chance, despite their differences, of forcing them to compromise.
Recorded at the Théâtre d´Aurillac, November 19th, 2019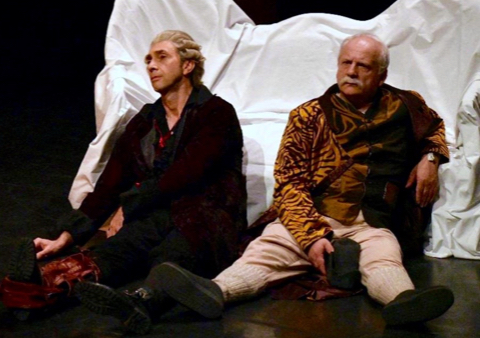 Technical sheet
Infos
Pictures
Videos
version
French, M&E
support
HD
producer
Tangaro/CLC Productions –Kien Productions – Cinéthéact - Télénantes – TéléGrenoble – TL7 Télévison Loire 7 - LCN La Chaîne Normande
director
Laurent Préyale