ORPHEUS & EURYDICE – C.W Gluck By Abou Lagraa
in production - 2023 - Les films de la Butte
Synopsis
WORLD PREMIERE, MID-MARCH 2023 - Commissioned by Bodo Busse, Managing Director for the Saarländisches Staatstheater (Saarbruck, Germany)
« This fascinating myth, a recurring theme in the history of the Opera, the legend of Orpheus never ceases to question us about the power of love facing death. I decided to develop a contemporary production that best conveys the « spirit » of this opera, namely : the outline. A staging that allows to create subtle choreographic games in space, in a poetic universe, increasing my Algerian origins and oriental perceptions of this myth.
With the conductor, we chose the Vienna version, premiered in 1762, in Italian and for countertenor. This version supports the oriental fragrances I want to inject.
The scenography and the costumes, developed in collaboration with the Italian artist Paola Lo Sciuto, are inspired by the Orient using mashrabiya. I want to make the scenery and the twenty dancers of the Saarbrücken's Ballet, appear as easily as to see them hidden from the public eye. The staging will multiply the games of optics, perception, disappearance.
I wish to make the underworld roar with a striking violence like making the poetic accents of a sensitive pain sing. A staging in perpetual wave motion, vacillating between hell and paradise. »
ABOU LAGRAA
Choreographer,
Co-director of Cie La Baraka / La Chapelle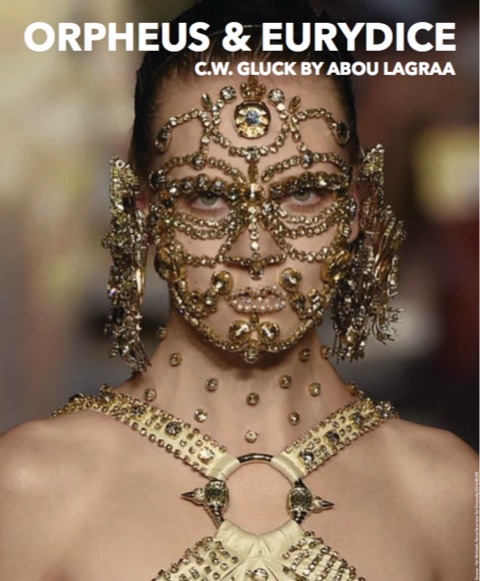 Technical sheet
Infos
Pictures
Videos
version
Music / concert
support
HD
producer
Les films de la Butte