P.R2B at the Gaité Lyrique, Paris
4K

44' - 2020 - La Blogothèque
Synopsis
"Music-cinema, cinema-music", raw energy, images that snap, a taste for a beat and punchy vocals… Pauline Rambeau de Baralon, known as P.R2B, grew up in Bourges on a diet of clarinet lessons, her father's blues guitar, classical music and French song, whose whimsical images fascinated her as much as the irreverence of Eminem, TuPac or Dr Dre.
After studying cinema at high school and a stint at the Cours Florent, she spent 4 years at La Femis, from which she graduated with a degree in directing.
Music is ever-present with P.R2B, who never stops composing in her home studio. Spotted by Tristan Salvati (Angèle, 47ter) after the release of her single, Océan Forever, in which synths undulate like the sea in winter, her first EP, Des Rêves, was released on September 11th 2020.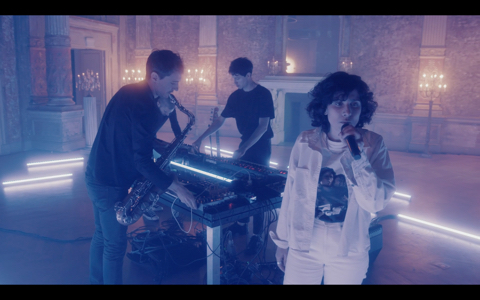 Technical sheet
Infos
Pictures
Videos
version
Music / Concert
support
HD, 4K
producer
La Blogothèque
director
David Ctiborsky