Patron or Pygmalion, a portrait of Misia Sert
53' - 2001 - SENSO Films
Synopsis
Within the particular context of before and after the First World War, Misia Sert, who came to France from Poland as a child, helped to bring out and prescribe the major musical innovations of the beginning of the century. A patron and friend of Diaghilev and Stravinsky, she was also friends with Cocteau, Chanel and Picasso and the muse of Toulouse-Lautrec, Bonnard, Vuillard and Mallarme.
Through this portrait of Misia Sert, the documentary reveals the exceptional adventure embarked upon by the French, Russian and Polish artists who, in every discipline and at the cost of numerous scandals, took the real risks necessary to produce an avant-garde work.
Based on archive material, photographs and movie clips from public and private collections, the documentary is further enhanced by interviews with witnesses, as well as excerpts from shows and ballets of the time, updated and still performed regularly on the major European stages.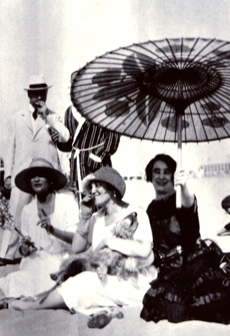 Technical sheet
Infos
Pictures
Videos
version
French, M&E
support
HD upgradé
producer
SENSO Films
director
Maria Sartova