PIERRE BERTRAND & la CAJA NEGRA
73' - 2022 - CLC /TANGARO – SYL PRODUCTIONS - JAZZ AU SOMMET/TL7 TELEVISIONS LOIRE 7- TELEGRENOBLE - LA CHAÎNE NORMANDE
Synopsis
Pierre Bertrand & Caja Negra are a band synonymous with travel and otherness, with a meeting of musicians and singers, fusing jazz and flamenco.
Pierre Bertrand offers us an unprecedented reinterpretation of a cult album by the maestro, Duke Ellington, integrating bewitching, unbridled melodies within an ultra-modern orchestral setting, combined with a re-reading of the dances and instruments of countries traversed in the Middle East.
Today, the invitation to travel takes on a symbolic dimension: the journey from Damascus to Dakha, via Aman, Beirut, Baghdad, and even Karachi is now impossible.
Pierre Bertrand channels the orchestral spirit, melodic strength and musical savagery of the "Duke", whilst delivering an intensely personal vision.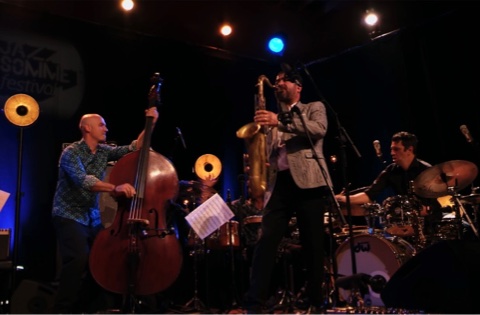 Technical sheet
Infos
Pictures
Videos
version
French, M&E
support
HD
producer
CLC /TANGARO – SYL PRODUCTIONS - JAZZ AU SOMMET/TL7 TELEVISIONS LOIRE 7- TELEGRENOBLE - LA CHAÎNE NORMANDE
director
Pierre Simboiselle